Hi Lee Constantine,
Today is the last day to enjoy exclusive pre-order savings and bonuses that come when you pre-order my upcoming book, 'Live Big'.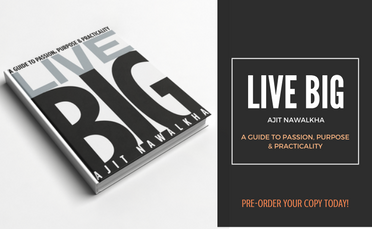 I'm serious about helping you implement the same success principles that I share in 'Live Big', and that's why some of the bonuses you can enjoy include:
Free ebook: Hustle - my book packed with specific processes, techniques, and ideas to spread your message and make a difference in the world

Free one-on-one video consultation with me

Free 3-hour workshop recording on how to get your message out

Free ticket to Evercoach workshop in Los Angeles

Free 1-year personal coaching with me
Depending on which bonus package you choose to take advantage of, the savings value you could enjoy range from $55 to $16,000.
Today is the last day to select your pre-order 'Live Big' package and enjoy your choice of exclusive bonuses.
Let's live big.
Love. Ajit

Ajit Nawalkha
Co-founder, Mindvalley
Follow Me on Facebook
PS: That hesitant voice inside your head? That's self-doubt. Don't let self-doubt hold you back. Make the first step towards a successful mindset just by jumping the hurdle of self-doubt and take powerful action to empower your mind.